About Okume
Founded in 1871, "Okume" is a long-established dry goods wholesaler at the Tokyo Central Wholesale Market with a history of over 150 years, based on the philosophy of "delicious food forever."
We have more than 200 different types of food carefully selected by connoisseurs from all over Japan, and continue to support "fish diet" that represents Japanese food culture to this day.
History of Okume
Founded in 1871, during the days of the Nihonbashi fish market, Kumekichi Kano (the first representative) opened Okume Shoten and had marine products available at the fish market. The Great Kanto Earthquake occurred on September 1st, 1923, burning the market down, and temporary business started on September 17th at the Shibaura Provisional Market. However, Tokyo rented land in Tsukiji from the Ministry of Navy due to the poor transportation system, and the business moved to Tsukiji Provisional Market on December 1st. Soon after, the Tsukiji market officially opened, and after 83 years of business, it finally moved to the current Toyosu market. We have been building this business for over 150 years in Ogume, and are currently a supplier for department stores, supermarkets, retail stores, restaurants, and more with a focus on processed marine products, supporting Japanese food culture.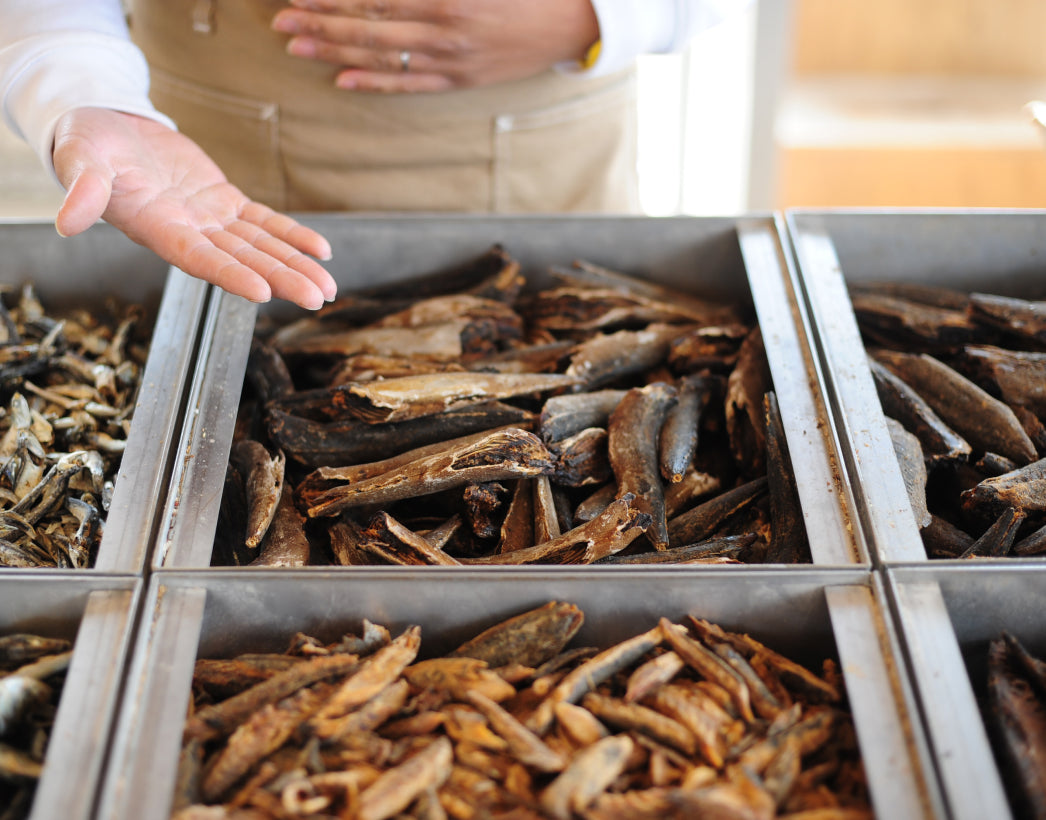 Passion for Dashi
In Japan, "DASHI'' made from bonito flakes, dried sardines, kombu seaweed, and dried shiitake mushrooms has been used in cooking for a long time. The deliciousness lead to a Japanese scholar naming the deliciousness ingredients "UMAMI". UMAMI, which means gently spreading in the mouth and leaveing a pleasant aftertaste, is one of the proud aspects of Japanese culture.
The taste created by the blessings of nature and time-consuming process transcends the realm of food and creating a lifestyle. We are proud to provide this happiness to people all over the world.
It is a proposal that makes life "rich and delicious.
Store Opening at Mie Vison
In August 2021, we opened a store in Mie VISON, one of Japan's largest food-themed commercial resorts, in Taki-gun, Mie Prefecture.
A concept store was opened where you can create the world's first custom-made dashi pack (patented).

Home Page
Custom-made dashi packs (Patent Acquired)
Okume's "dashi sommelier" has cultivated over 150 years of history to produce carefully selected additive-free 30 types of dashi ingredients. Customers can choose from 30 types of dashi stock → mix, crush & fill → package it at the store to make your "dashi pack".
We started the world's first "order-made dashi pack" service.
Being able to combine different type of ingredients in many ways, there are more than 1 trillion possible combinations.
We are the only service in the world where you can create a "custom-made dashi pack".
Your Name*'s Dashi
Custom-made dashi packs can be personalized with your name. You can put your name ("○○'s Dashi") and express your original "secret formula" on the package. In addition, since your order data is carefully stored in our system, you can purchase the same item again on the DASHI OKUME ONLINE SHOP.
Body and Mind.
Daily meals are important to live a fulfilled and healthy life.
For this reason, we pass on the culture, protect the tradition, and share the knowledge and skills from professionals.
We study everyday to discover ideas so that you can easily produce the full-fledged taste at home and value connections between people.

Okume dashi carefully selected by experienced professionals will surely support your eating habits and the deliciousness will be memorable. Please come and visit us at our store.